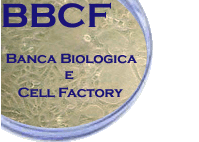 Cell line distribution


Banca Biologica distributes human and animal cell lines to qualified researchers, who are responsible for their preservation and correct use. The cell lines are distributed in culture (25 cm2 flask) or frozen, following the depositor's indications: please verify the cell line description in the catalogue for possible restrictions to distribution.
The expansion of a cell line (from the catalogue or provided by the researcher) can also be agreed, and the cells can be obtained as flasks in culture, frozen ampoules or pellet. Banca Biologica also produces and distributes human B lymphoblastoid cell lines.
Responsibility

Banca Biologica regularly performs quality controls on all the cell lines, but not all the characteristics described in the deposit sheet can be fully verified. The information described in the catalogue is extracted from the deposit sheet and from published data, and data correctness is validated by the depositor. The cell lines shall be used only for research purposes, shall not be offered for sale, shall not be distributed to third parties. If the cell lines are referred to in any publication, no alteration shall be made to the cell line name or acronym, the Banca Biologica catalogue code shall be included, and reference to the original paper shall be added.
Documentation and shipment
Banca Biologica provides on request (barbara.parodi@hsanmartino.it) written estimates about cell line supply. Only written orders are accepted, which should be sent by fax (+39 010 555 6874) and subsequently by mail. An official order from the Institute, where the price of the cell line/s should be specified, should be sent together with the Material Transfer Agreement and the order form filled in and signed. For technical reasons, some cell lines are distributed only as growing culture or only as frozen ampoule (please refer to the catalogue).

For further information please refer to how to order and price list.

Upon receival of all documents, the cell lines are usually shipped - together with a technical sheet and a safety sheet - on mondays, by express carrier.
Complaints

Viability and absence of contamination are checked before shipment. In case of damaged samples (broken or thawed ampoule, cell line not viable or contaminated) the researcher should immediately contact Banca Biologica which will send a Complaints sheet, and will check with the carrier and/or verify the batch. No complaints will be accepted after 30 days from shipment, for cell lines kept in culture for many passages, if the indications of the technical sheet have not been followed.
In case during an internal quality control a cell line would be found not to correspond to the description in the catalogue, all customers will be promptly informed.
Production of human B lymphoblastoid cell lines
The service foresees the Epstein Barr virus transformation of peripheral blood lymphocytes and subsequent expansion of the B lymphoblastoid cell lines. Four to six weeks are needed for transformation.
The cell lines can then be supplied as frozen ampoules, growing cultures and/or pellets, or deposited (safe deposit) and possibly made available for distribution (deposit for the catalogue).
Please contact us if you need more information on this service.