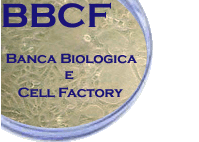 How to order a cell line
Fill in the order form and the agreement form (or the agreement form for GMO), and send by fax (+39 010 555 6874), together with the official order from your institute, to the ICLC secretariat.

The original official order should be addressed to:

IRCCS Azienda Ospedaliera Universitaria San Martino – IST Istituto Nazionale per la Ricerca sul Cancro
L.go R. Benzi, 10
16132 GENOVA ITALY

VAT: 02060250996
Bank account: Cassa di Risparmio di Genova e Imperia (CA.RI.GE)
c/c 22869/90, ABI 6175, CAB 1594,
IBAN IT18Q0617501594000002286990,
SWIFT CODE CRGEITGG085.

In the order please specify:
- the price of the cell line/s, including the contribution for shipment
- the address for the shipment of the cells and a person to refer to for information about the shipment
- the address for the invoice

The cells will be shipped on mondays, within two weeks following the receival of the order. In case a technical problem would arise, the customer will be promptly informed.